Kay Adshead, playwright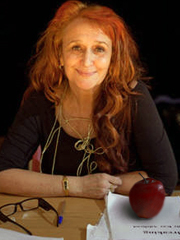 Kay Adshead is a poet, playwright and director/theatre maker. She trained at RADA, as an actress, parts include Cathy in the BBC classic series Wuthering Heights, Lynda in Mike Leigh's film Kiss of Death, Tanzi in Trafford Tanzi at The Mermaid theatre and Sue McKenna in Film on Four's Acceptable Levels.
She has written over 25 plays including: Thatcher's Women (The Tricycle Kilburn) published by Methuen, Animal (Soho Theatre) published by Oberon, Lady Chill (RNT) published by Methuen.
She is the artistic director of award winning company Mama Quilla.
Elena Vannoni, director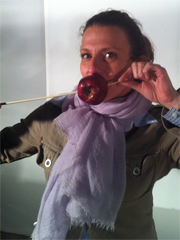 After graduating in Stage Directing from the Accademia Nazionale d'Arte Drammatica "Silvio D'Amico" in Rome, she worked with several eminent Italian actors and directors, receiving the Premio Nazionale delle Arti as Best Director in 2005. She worked for more than 10 years between Rome, Berlin and Los Angeles, where she decided to put on stage the US Premiere of "Bites".
Gemma Sonego, producer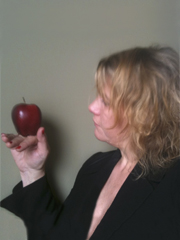 Gemma is an architect, independent curator and gallery owner. From 2004 she lives in Los Angeles and practices her curatorial activity, conveying her passion and beliefs in the function that Art must have in the society.
During a trip in Berlin in 2008, she met Elena Vannoni and had the privilege to attend Bisse - the german version of Bites by Kay Adshead - staged at the Engelbrot Theatre under Elena's direction. Since then, Elena and Gemma have been working together to bring the play Bites to Los Angeles. Now the dream comes true! Her sincere thanks go to Bites' production crew and cast and to everybody who supports and believes in the project.
Luigi Pulcini, technical director and composer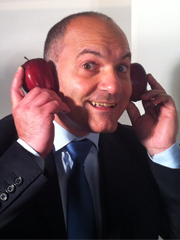 Luigi is a Composer and a Computer Engineer. In 2008 he moved to Los Angeles to establish his career as a film composer. During the last few years he collaborated with composers such as Christopher Young, Carlo Siliotto, Paul Haslinger, Nuno Malo, Kostas Christides and Saverio Rapezzi. He is the co-founder of Film Scoring Lab, Inc.
Claiming his gift as a pianist with carpenter's hands, he contributed to "Bites" building the whole stage in the wonderful space of the Old Bank.
Loren Madi Soria, stage manager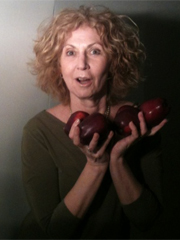 I came to know Elena Vanonni at one of the many wonderful dinners given by my dear friend Alessandra Montagna. Feeling one of those immediate connections, I thought to myself, this woman will soon be my friend. We met on several occasions and always enjoyed each other. I had no idea she was a theater director, I had no idea what she did at all, I only knew she was fun to be with. Coming to know about Bites, through Alessandra, I thought, I'd like to be involved with this project. I offered my help to Elena, and shortly after transferred some lifelong skills to fulfill the role of Stage Manager. So here I am, living this intensely amazing experience, contributing whatever I can, to bringing this vital story to the people of Los Angeles.
Elana Horwich, associate producer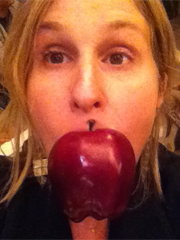 Elana Horwich is a teacher, writer, cook and comedienne and long time lover of all things Italian. She is the founder of Meal and a Spiel, an effective and entertaining cooking school which transforms the way women experience the kitchen.